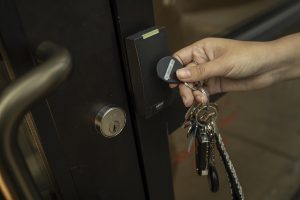 Building security has gotten more and more advanced over the years, now going far beyond a key and a lock. In any commercial setting, it is important to prioritize the safety of employees and business assets. There have been many advances in tools available to secure your building and keep it safe around the clock. Two tools that will greatly enhance commercial building security are access control systems and video surveillance. 
Access Control
Access control systems are the new key and lock to commercial buildings. With access control, you can enhance security by restricting who is able to come in and out of your building. Security is enhanced through the following:
Authentication:

There are different methods of authentication involved, and this can be through key cards, fingerprints, facial recognition, or PINs. This allows only those who are authorized to enter the building.

Customization:

Access control systems can also allow you to customize who has access to what within your buildings. For example, you may have a common area for customers to come in and out of but have restricted access to employee areas where you don't want unauthorized people. Or you may even have restricted access to rooms for certain administration or qualified employees. 

Monitoring

: Access control also offers monitoring of employees and attempted break-ins. The systems show real-time access attempts, where you can be warned of someone who is trying to break in but does not have proper access.
CCTV Systems
CCTV systems or Closed-Circuit Television (CCTV) systems work as an around-the-clock watch for your commercial building. This video surveillance tool enhanced building security through:
Surveillance:

The CCTV systems allow for the watch of any unwanted activity in real time. Management and employees cannot see every part of the building at one time, but the surveillance cameras can help keep watch. Even the presence of cameras can deter crimes or break-ins.

Real-Time Analysis:

With ever-improving technology, CCTV systems can offer real-time analysis. Features often include things such as appearance search (for people objects, or vehicles), facial recognition, license plate recognition, unusual activity, and more.

Remote monitoring:

Remote access to real-time video surveillance is a key feature that allows you to see any activity going on at your building even when you are not there. Remote monitoring can be done through your phone or web browser so you can check in wherever you may be.
Access Control and CCTV Systems at All State
Card access control systems and video surveillance from All State Fire & Security give you the ability to control who has the authority to enter and exit certain parts of your facility as well as monitor activity through CCTV systems. We offer design, installation, and services of security systems to keep you and your employees safe. Commercial buildings we work with include manufacturing and industrial plants, educational facilities healthcare facilities, restaurants, retail centers, hotels, stadiums, casinos, and much more. Contact us today to learn more about the commercial building security systems and services we offer.