It is extremely important to prioritize the safety of students and faculty in schools. Life safety systems including fire protection and security systems will help protect students from fires and security breaches.
Fire Protection for Schools
Being prepared with the proper fire protection in place can help save lives if a fire breaks out in school. Some common fire protection solutions found in schools include:
Fire Sprinkler Systems – Fire sprinkler systems can greatly reduce property damage and save lives when a fire occurs. Schools must have fire sprinkler systems installed so that when a fire occurs, it is controlled automatically.
Fire Alarm Systems – Fire alarms are extremely important in schools as they give students and staff warning of the fire so they will have enough time to safely evacuate the building.
Fire Extinguishers – Installing fire extinguishers throughout schools can help to put out small fires before they become a larger and more dangerous problem.
Fire Suppression – In some areas of schools, fire suppression systems may be needed. Cafeterias may need kitchen hood fire suppression systems to prevent cooking fires. Some labs utilize chemicals that need special hazard fire suppression systems.
Security Systems for Schools
Keeping schools secure is an extremely important task. Security systems can help keep students safe from a variety of threats. Some security systems found in schools include:
CCTV – Video surveillance systems help keep an eye on events in the school, monitor actions of people in the building, and prevent crime or wrongdoing.
Access Control – Access control systems keep students safe by preventing unauthorized visitors from entering the building.
Central Station Monitoring – Alarm monitoring systems send signals to the proper authorities when security or fire alarms are activated. Monitoring gives people the peace of mind that the school will get the attention it needs when an emergency occurs.
All State Fire & Security Protects Schools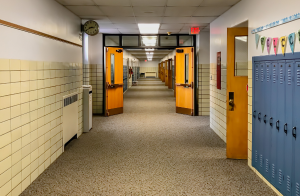 At All State Fire & Security, we provide life safety systems for K-12 schools. We design, install, inspect, and service fire protection and security systems in education buildings. All State can provide fire sprinkler, fire alarm, and fire suppression systems to protect students and school buildings from fires. Our security systems including video surveillance and access control systems protect students from various threats. All State Fire & Security provides inspections, testing, and service of fire protection systems to keep them functional and code compliant. To learn more about systems and services we provide for schools, contact us today.